Quote:
Originally Posted by
Al Fatih
syukur Alhamdulillah, realisasi modernisasi Alutista di tubuh Militer Indonesia terus berjalan. hal ini mutlak diperlukan mengingat Alutista yang ada saat ini sudah "sepuh" meski sudah beberapa kali melalui proses re-powering.

Gebrakan mengejutkan dilakukan TNI AD, Saya baca di majalah Defender edisi bulan Juli, TNI AD akan membeli Helikopter MI-30 (kalo ga salah) dari Rusia sebanyak 6 unit. untuk melengkapi kekuatan sebelumnya yang juga didatangkan dari Rusia pada tahun 2003 lalu sebanyak 2 unit.

buat temen2 yang ada info spek maupun pic nya, bisa di share disini?
pengembangan dari Mi-24 Hind
Mi-24 Hind sendiri adalah gunship yg dikembangkan dari Mi-8, heli paling populernya rusia
kita punya semuanya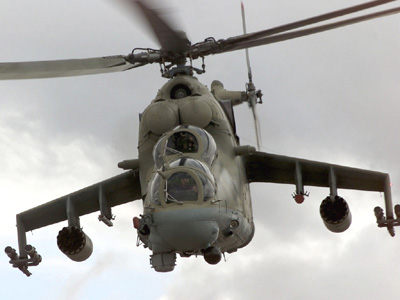 Dimesions (mm): 17,3props/21,5 x ?
Maximum speed (km/h): 315
Alt.: 4500
Weight (tons): 8.5- 11.5
Engine: 2 TVD, TV3-117B, 2 x 1'619 kwt
Range (km): 450
Armament: AS Sturm
132 NURS
23mm DP
Crew: 3
Flying Infantry Combat Vehicle
Development of aviation technology closely mirrors the military and political situation worldwide. For example, cost curve to picture aircraft and helicopters production in the USA features clear-cut peaks: 1954-1957, 1966-1968 and 1985-1986. These refer to wars in Korea, Vietnam and the so-called Reagonomics era (Afghanistan). At every such peak unique specimens of air technology emerged.
The helicopters included the Sikorsky S-55 in Korea, Bell UH-1 Irokez and Bell AH-1 Cobra in Vietnam; AH-64 Apache - Reagonomics. Our helicopter-building industry reacted adequately and produced Mi-4, Mi-8, Mi-24 and Mi-28 helicopters respectively. Today we will tell our readers about Mi-24 gunship helicopter with transport capability.
Such a unique helicopter 'flying infantry combat vehicle' was the brainchild of M.L.Mil, helicopters general designer.
His idea implied the development of a helicopter similar to an American Cobra helicopter, capable of carrying a powerful armament systems and boasting at the same time high flying performance, combat survivability and a capacity to accommodate eight troops (full strength squad) with personal weapons and extra ammunition owing to a decrease in its combat load.
As the gestation period for the new types of armament and observation-sighting devices took longer than the helicopter's development, M.L.Mil decided to fit the first version of the Mi-24 with armaments and sights currently used at that time. Such a new armament system was first tried on the Mi-4 (K-4V) helicopter. The rapid tempo of the Mi-24 development can be attributed to partial or complete unification of the most complicated and vital units, which were previously intended for Mi-8 and Mi-14 helicopters. These units comprised a hub and blades of the main rotor, swash plate, tail rotor, main gear box, rotor drive system and finally the TV3-117 engine. It took one year only to pass from the drawing board (August 1968) to the maiden flight of this helicopter.
The development of new armament systems and devices was carried out simultaneously with the flying trials of the first helicopter prototype. This led to the development of a more roomy cockpit for the crew. This updated cockpit accommodated armament systems and sighting systems similar to those mounted on the first prototype. The first production version of the Mi-24 helicopter, the Mi-24A, became operational that way. This helicopter differed from the first prototype by a stub-wing anhedral of -12 deg. with pylons at wingtips for the Phalanga (Phalanx) antitank missiles. This was done to compensate for the lateral instability which appeared during flying trials of the prototype.